Kevin Hart: Comedian, Entrepreneur and Marketer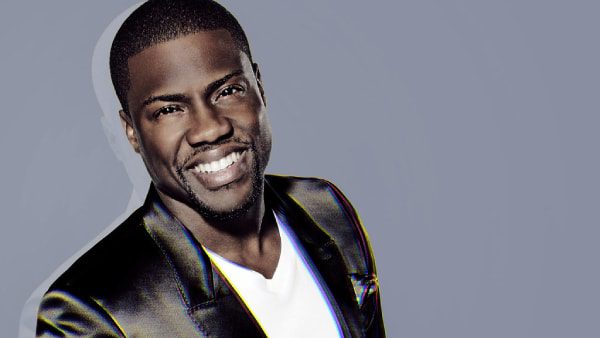 Kevin Hart has a reputation for being a funny guy and an extremely hard worker. He thinks it's an excellent reputation to have. Having been in the industry for over two decades and working relentlessly since 1999, his career only took off over the last few years. 
According to Forbes, Hart rakes in approximately $87 million per year. Not only does he feature in box-office hit movies and develop his own comedy shows, but he also has multimillion-dollar endorsement deals with major retail brands such as Nike and H&M. His success goes beyond the movie industry.    
In 2018, he went on tour for his stand-up comedy show Kevin Hart: The Irresponsible. He managed to sell more than 1 million tickets, making it the most successful comedy tour of 2018. Selling 1 million tickets is a considerable feat, and many experts believe he was able to pull it off partially due to his fan base of over 62 million followers on Instagram and 24 million on Facebook!  
With major collaborations with A-List celebrities such as Will Ferrell and Ice Cube, he is widely considered to be a mainstream success. He's the type of comedian you either hate or love. What you might not know is that this Philadelphian native used to hustle as a shoe salesman before landing major acting roles in Hollywood. Love him or hate him, Kevin Hart is a businessman and marketer. When you look closely at what he's achieved over the years, you'll notice that he approaches everything strategically. From his business ventures to marketing strategies, Hart puts in the hours to ensure that his brand is recognized by millions of people.      
Here are some of his marketing strategies: 


He Markets Himself
When you visit his Twitter profile and check out his description, you'll read "My name is Kevin Hart and I WORK HARD!!! That pretty much sums me up!!! Everybody Wants To Be Famous But Nobody Wants To Do The Work". This is an indication that he considers himself a brand. While other entertainers regard themselves as talents, he has identified himself as a brand. He understands that his name "Kevin Hart" is a business that he has to lay out marketing plans for. Like all other businesses, an integrated marketing plan is necessary to build long-term success.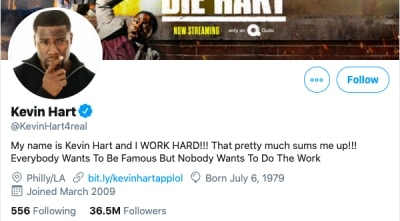 Another example is when you visit his website. It contains all the essential information such as how to contact him, make bookings, merchandise for sales, press and media, as well as links to other businesses in his empire.  
Branching Out Through Social Media
Kevin Hart knows the ins and outs of social media marketing. Hart's production company, 'Hartbeat Production' manages all his social media channels, and it does a ton of branching out. Hart utilizes Facebook, YouTube, Twitter, Webstagram, Vine, Google+, and so many more. His social media presence is like an octopus with many tentacles.   
When you further study his social media content, you'll notice that his channels work together. Different media reach different audiences and prospective fans. The content may also be the same across all channels, but not the message. For each post, messages are personalized, which is good for a business that uses various channels. At the end of the day, the audience for each channel is unique, and so you have to cater to them.  
These are some of the things he does really well on social media:
Whether it's good press or bad press, he keeps it personal, so his audience knows who he is

He collaborates with other stars that have millions of followers on social media: Ice Cube (11M Instagram followers) and The Rock (96M Instagram followers) are two good examples. 

He keeps production cheap: as you scroll through his social media channels, you'll see that most of his videos are not well-produced. It's just him and the camera. This "cheap" production helps to keep it real. The same goes for his tours. He doesn't need to go the extra mile with expensive equipment to sell a million tickets. 


Cross-platform Promotion
When it comes to promoting, Kevin Hart makes sure to do it wherever and whenever the opportunity presents itself. While he was on his stand-up comedy tour, he used the opportunity to promote his latest movies. He showed videos and previews to the audience.   
Going cross-platform is an excellent strategy. It's a fundamental principle of integrated marketing for businesses. This gets you thinking about seizing every opportunity that comes your way as you never know where and when you might reach your audience or prospective fans. 
Some questions to think about:
Do you use email marketing?

Are you blogging regularly?

Do you post articles on social media channels or send them to your mailing list? 
If you are running a business, Kevin Hart's cross-platform approach shows us that we need to be looking out for missed opportunities when it comes to reaching the relevant people. Get out there with a broader marketing vision.  
Video, video, video
With smartphones equipped with good quality video cameras and how easy it is to shoot content and edit them, it's no surprise that video marketing is taking over the industry. Many marketing experts foresee that video content will be the most-watched, the most absorbed. If you take a look at Kevin Hart's Facebook and Twitter, you'll see how often he uses video. Businesses shouldn't get left behind either. It's time to jump on board the video wagon.
Produce video content that explains who you are and promotes your products and/or services. The quality doesn't have to be superb or an expensive production. You can even use your phone. Just make sure that it's digestible and easily understood. Leveraging video will help you to reach more customers as well as groups of people you never reached before.
Awesome Content Creation
I'm going to go and become the greatest, biggest comedian in the world, and then Hollywood will start calling me up and not making me audition.
As mentioned earlier, Kevin Hart is a trooper. One of the things that motivated him was the fact that he wanted to become a star. His ability and drive to continually improve helped him to get to where he's at today. With each new comedy show, he made his audience laugh even more. His materials were funnier, attracting more and more people to his shows.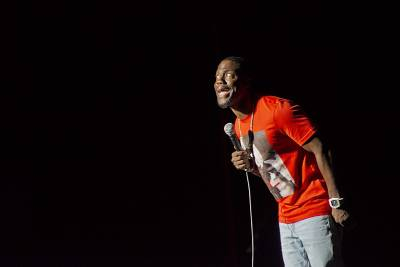 What did he do with the money he earned? He re-invested the money back to his shows and judging from his success now, it was definitely the right move. His audiences grew bigger. He had repeat fans who brought their friends along. His movies brought in more and more money as well. By 2016, he had become a very successful comedian and entrepreneur.
Getting Your Audience to Ride Along With You
This was an early realization for Kevin Hart. Early in his career as a stand-up comedian, he knew that his growth would heavily depend on his audience and fan base. Completely aware of this, he decided to take this matter into his own hands. After every show, he'd make it a point to collect his fans' email addresses. He directly marketed to his fans. He communicated with them, letting them know his latest stand-up venues or cities where he was touring. Year after year, his attendance rates grew higher, indicating that this strategy worked perfectly well for him.
Fan Interaction
Another thing he's excelled at is giving fans access to him. It's a known fact that he takes his fans seriously. On his Facebook biography, it reads "I Love All My Fans". On Twitter, fans who tag him will get retweeted. Clearly, he encourages engagement with his fans. On both accounts, you don't only notice fan interaction; there's two-way communication going on. And this is one of the reasons his fans remain loyal.
Brand Awareness
What is brand awareness? It is defined as the intangible sum of a product's attributes: its name, packaging, history, reputation, and advertised image. 
"Your brand is what people say about you when you're not in the room". – Jeff Bezos
According to Bezos, our efforts can only influence people to a certain extent. Besides various elements, a brand must also deliver on its quality and value to a consumer. When it comes to the hardworking comedian, Hart practices brand awareness by being constantly active across his social media channels. As a marketer and entrepreneur, he is leveraging on the impact social media can have on a business, leading to business growth. On a recent episode of Oprah Prime, Hart sat down with the American talk show host to talk about the importance of social media. Check out the video:  
"Being able to talk back and forth with your fans goes a long way". -Kevin Hart


With the rise in digital marketing, Kevin Hart has mastered the art of engagement with his fans. In this day and age, things are entirely different from how they were back then. Older stars didn't have the same tools, but they didn't have to. Back then, they were more focused on campaigns and talkshows. 
Part of his brand is about keeping it real. He claims that he's shown everything to his fans and that he's an open book. From happy moments in his life to a divorce, he's revealed every aspect. There are also times when Hart uses social media to ask his fans to watch his latest movie or go see his latest show.   
This social media and branding strategy combined has taken his business to a level that no paid advertising ever could. Hart continues to grow his following on social media, and people around the world love him for being who he is.
As a comedian, he's sold out NFL stadiums, starred in hit movies, and has appeared on TV too many times. If there's anything he understands well, it's building an empire with integrated marketing strategies.   
Key Takeaways from his social media mistakes
Apart from his marketing mastery, Hart has also made mistakes along the way. Although he seldom does, mistakes are often remembered for longer periods of time and might affect your career. For the famous comedian, he landed the gig of hosting the 2019 Academy Awards, but had it stripped away from him due to some ugly history. 
Benjamin Lee, an editor at the Guardian, shed light on Hart's old tweets following the Oscars announcement.
"I wonder when Kevin Hart is gonna start deleting all his old tweets," Lee tweeted, adding screenshots from some of Hart's since-deleted tweets in which he said someone looked like "a gay bill board for AIDS" and called another person a "FAT FAG."
Social media is such an effective communication tool, but you should always control and monitor what you put out there. Many people like to use these platforms to vent out anger and disappointment. You've got keyboard warriors who are not afraid to voice out their opinions that they would never say in person. You've got hate comments written by people hiding behind their computers and phone screens. But these negative posts will stay online and may be permanent. What you say online may affect your business and career.  
Stay away from controversy
Because social media is instant, situations may quickly escalate. People rapidly fall deep into the moment and become trapped in drama. The unfortunate thing is that it's visible for anyone online to see. 
Expressing a controversial opinion is often pointless. You'll gain a lot of haters, and you put yourself at risk. Don't leave a trail of negative posts for people to dig up. It might hurt you in the future. 
Think before you hit on send
Whether it's an email, a text message, or a social media post, responding without thinking may also put you at risk. If you're not emotionally stable, take some time to cool down before you hit on send. If you're angry or upset, you might feel the wrath and be tempted to send a message, but it's definitely a better idea to think about what you're about to send. You can't take these messages back once they're out.   
Unless it's urgent, take your time to formulate a strategy for crafting messages. It could be hours or days but take your time. Being patient allows you only to send messages you want to send out. This strategy will help you to protect yourself from saying something you might regret in the future. 
Community
Congratulations on reaching the end!
Check out our podcast Impact Talks, where you can listen to high-profile experts from various backgrounds!
Join our Facebook Group Community with over 4,700 entrepreneurs, innovators, and creators by Startup Funding Event, where you get access to free live training, daily Q&As, design templates to get your business started, and support from the SFE team. Join here!
https://startupfundingevent.com/wp-content/uploads/2020/10/21133795823_cc59220fe3_b-min.jpg
338
600
SFE Team
https://startupfundingevent.com/wp-content/uploads/2017/12/SFE-300px-1-300x228.png
SFE Team
2020-10-08 21:13:34
2020-10-08 21:13:34
Kevin Hart: Comedian, Entrepreneur and Marketer