Marketing Nightmares: Adidas Email Woes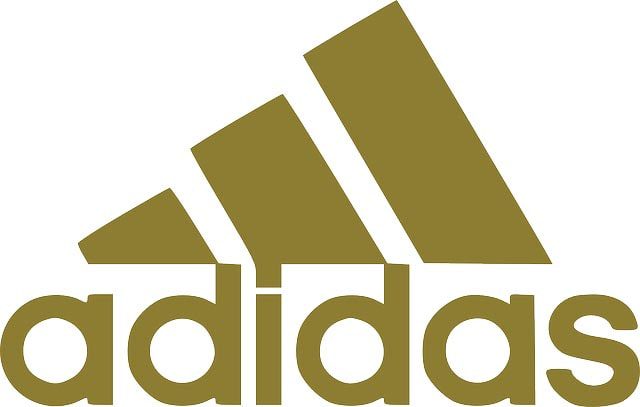 Marketing is crucial to the success of a business. It is such a wide process that involves advertising, public relations, promotions, and sales. The marketing department of a company is in charge of introducing and promoting the product and/or service to potential customers. Without marketing, how would people ever know of your existence?
This vast umbrella can be broken down into many sub-categories. Email marketing is one of them. Alongside tech growth, we've also seen a boom in this form of marketing. It's all about sending a message to a group of people via email. Many companies employ email marketing strategies with the following objectives:
To build loyalty, trust, or brand awareness  
With so many advantages, it is clear why this form of marketing is so popular and widely used. It is significantly cheaper and faster than snail mail. In a matter of seconds, you send a high volume of messages. From these messages, you can also gain insights into consumer behavior. It's one of the most measurable marketing strategies ever. You can track things such as who opened your emails and which links they clicked on. Not to mention, most people check their inboxes on a daily basis.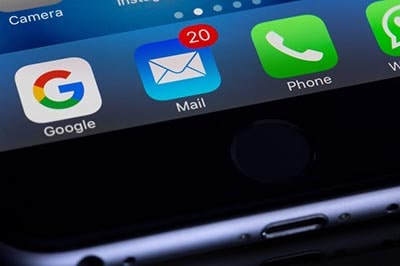 It is without a doubt that a company as big as Adidas has been using email marketing for ages. Infamous for its three stripes logo, this sportswear brand originated in Germany. The company was founded in Herzogenaurach by Adolf Dassler in 1924. Together with his elder brother Rudolf, they operated under the name Dassler Brothers Shoe Factory. 
Focusing on enhancing the quality of spiked footwear for athletes, he started using canvas and rubber instead of heavy metal spikes. In 1936, Dassler managed to persuade U.S. sprinter Jesse Owens to use his spikes at the Summer Olympics. This proved to be a successful collaboration for both. Owens bagged four gold medals and the Dassler shoes became known to the whole world.   
In 1947, relations between the brothers turned sour and they split up. Rudolf went on to start his own company RuDa derived from his name and Adolf started Adidas, also an abbreviation of his name. After decades of experience in the sportswear industry and a few changes in ownership, today Adidas is the largest sportswear manufacturer in Europe. 
Keeping up with the times, the sportswear giant decided to stop advertising on television and shift its focus to digital media. Here is an example of their welcome email.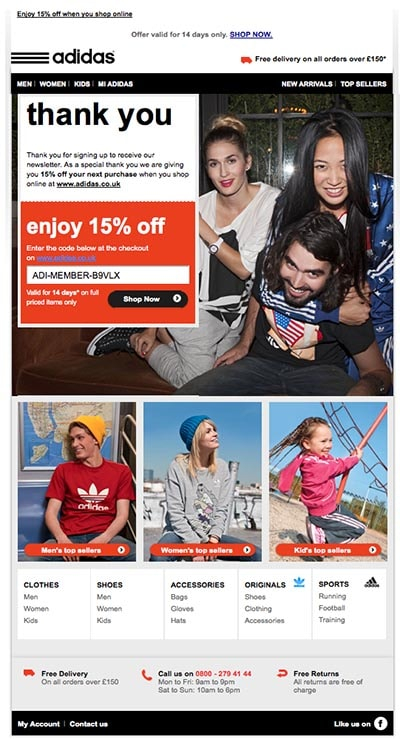 As you visit their online store and sign up for their newsletter, you receive this email. Based on email analytics, the average open rates for welcome emails are often above 80%. So it might be one of the most important emails your company will ever send out. 
The objective of a welcome email is to remind people of your brand and your online existence. You want people to be exploring and clicking on your website. With this email, Adidas doesn't forget to thank you. At the same time, it offers you a discount code as well as links to their top sellers. Here is a classic example of making your new subscribers happy and trying to convert them into paying customers.   
Email marketing is a department where Adidas has really excelled in the past few years. However, we all make mistakes. It's what makes us humans. In 2017, Adidas blasted out an email to all Boston Marathon finishers. The subject line read: 
"Congrats, you survived the Boston Marathon!"
Clearly, Adidas had good intentions. They wanted to congratulate everyone for achieving such a feat! But what they didn't take into account was the events from four years before and how the public would perceive it. During the 2013 Boston Marathon, there was a bombing, which killed three people and injured more than 260. 17 people lost their limbs. 
Motivated by extremist Islamic beliefs, two brothers planted two homemade bombs near the finish line of the race. Both bombs went off within 14 seconds of each other. Not associated with any terrorist groups, no one knew why they would commit such a horrific act. One of the brothers later admitted that they also had plans to detonate a bomb in Times Square, New York. 
There was so much chaos and tragedy. A sporting event that was supposed to be about health and competition was now the subject of a bombing attack. Concerns over security began to mount.     
Then, four years down the road, just imagine receiving an email with this subject line. Just imagine you've completed the prestigious Boston Marathon, a very historic race that many runners across the world would love to participate in. For some, it's a lifetime achievement.
You open your email and get congratulated for surviving. Of course, all these memories of the bombing come rushing back. It's no surprise that the email was met with negative reactions. How did the company fail to make this connection? Who came up with the wording?
Adidas' blunder became the talk of the town. It spread like fire all over social media and popular news outlets. 
Here are some Twitter reactions: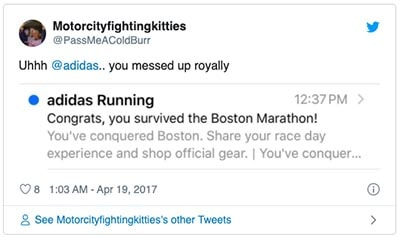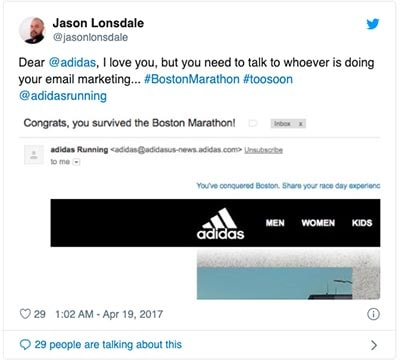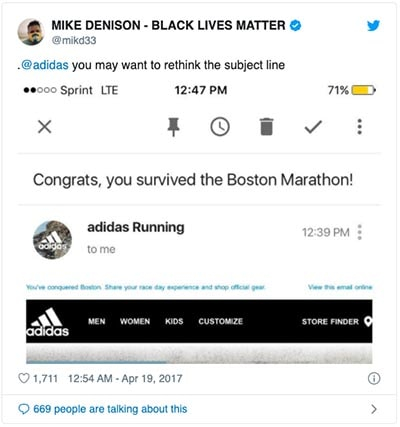 We've all sent out messages that we later on regret. But we can just apologize and move on. For a brand as big as Adidas, such an insensitive subject line would only lead to catastrophe. You would think that their marketers would have the expertise and experience to select better word choices. 
What Adidas did next was the best and only thing they could do. Following this mistake, Adidas did the right thing. They admitted their mistake and took responsibility. Just three to four hours after the email was sent out, a public apology was issued on their social media accounts. Adidas apologized for its careless mistake and only had good words for the Boston Marathon.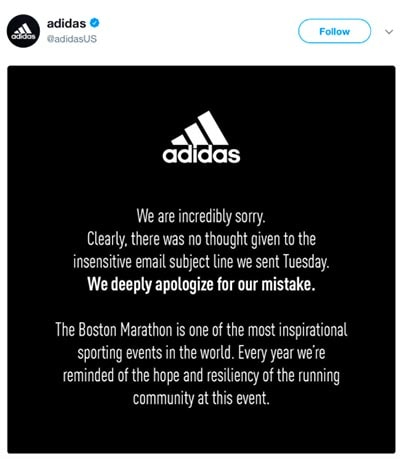 The sportswear giant was swift to respond, preventing matters from escalating. But the damage was done, and it will go down as one of the worst subject lines in email marketing history. 
Fast forward a year after the email mess-up and Adidas bounced back even stronger. As the official apparel partner and to celebrate 30 years of partnership with the Boston Marathon, they came up with a brilliant idea. 
Adidas, in partnership with digital agency Grow came up with the "Here to Create Legend" campaign. Drew Ungvarsky, the CEO of Grow, announced: 
"We are thrilled to create a first-of-its-kind experience for Adidas at the Boston Marathon. We wanted to harness the power of 30,000 runners generating data from the very race bibs that sport the Adidas logo and transform the entire race into a creation engine. The result is an epic personal highlight film for every single runner who becomes part of the legend of this incredible event."  
Cameras had been installed in certain spots of the racecourse to capture individual videos. After the event, runners didn't receive an insensitive email. Instead, they were in for a treat. Delivered within hours after the race ended, all runners received an email where Adidas shared access to all the videos. 30,000 runners, 30,000 unique videos. 
Check out the promo video below: 
3 Tips on Crisis Management
Crisis Management is an important skill that companies should have. At any given time, a small issue could snowball into a big one causing long-lasting damage. It could be anything because you never know how the public will react. 
With that in mind, organizations need to have a strategy to handle the crisis. And they need to do it as quickly as possible. 
Here are 3 tips to handle a crisis: 
1. Act Quick
During a crisis, it is crucial to respond as soon as you can. The Boston Marathon email was sent out on Tuesday morning and by Tuesday afternoon, Adidas had already issued an apology. It took them only a few hours to do so. 
The longer you wait, there might be more damage done. Issue a statement showing that you acknowledge the crisis. But also be sure to check that all your information is accurate. 
2. Take Responsibility
Mistakes happen and the best way to deal with them is by owning up to it. That's exactly what Adidas did. In a matter of hours, the sportswear brand issued a sincere apology and praised the Boston Marathon. Although it was probably only one individual or department responsible for the wording, as an organization, it didn't try to deny it or shift the blame on others. 
3. Be Human
During a crisis, we need to keep in mind that people have emotions. That is why the crisis happened in the first place. So when we're dealing with a crisis, try to express empathy and concern. 
In this case, Adidas used very strong words such as "incredibly sorry" and "deeply apologize". Another focus of the apology was on the runners – "Every year we're reminded of the hope and resiliency of the running community".  
Community
Congratulations on reaching the end!
Interested in reading about more marketing stories? Want to listen to a podcast for a change? 
Join our Facebook Group Community with over 4,700 entrepreneurs, innovators, and creators by Startup Funding Event, where you get access to free live training, daily Q&As, design templates to get your business started, and support from the SFE team. Join here!
https://startupfundingevent.com/wp-content/uploads/2020/06/adidas-311450_640-copy-min.jpg
407
640
SFE Team
https://startupfundingevent.com/wp-content/uploads/2017/12/SFE-300px-1-300x228.png
SFE Team
2020-06-06 11:07:25
2020-06-16 12:20:01
Marketing Nightmares: Adidas Email Woes